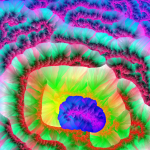 The all RGB colors project has been amazingly successful, let me thank everyone for their interest again. There have been many developments, so let me introduce them. First of all, I made the algorithm a lot faster and added many more features, so you will see lots of new awesome images (here's one on the right, just a random pick out of hundreds, it's rescaled, so don't count the colors in it). I created a gallery website for to this project, rainbowsmoke.hu, and I'm working on providing fine art prints to the public. And I started porting the algorithm to other platforms, it's already available for Android. So that's the overview, I promised a follow-up article previously, let's continue where I left off.

The story in numbers
What actually made the project widely known was the YouTube video. Thousands of people watched it every hour. I would say it went viral, but not hugely: the view count is around 133 thousand right now, so it's nowhere near like Gangnam Style with it's 2 billion or anything, I sure won't get rich with that number. Anyway, I see now that making a video can be a very useful tool.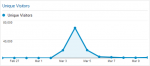 The video, and also Reddit, brought many visitors to my website, who brought it down several times. You can see a unique visitor count on the right. On a normal day, I used to have 50 unique visitors a day. But on March 4, it went up like crazy. Installing a caching plugin for WordPress helped a lot, but still, even my ISP wasn't happy about this spike. And what's interesting is that it died down as fast as it went up. There's a Hungarian saying, a miracle only lasts three days. So that's how it goes. Currently, the numbers have settled, they are a bit higher than previously, and that's very good.
The most important thing to me was that New Scientist covered the story, and then Gizmodo did too, and they were followed by many, many other websites, from all over the world. I started collecting them on rainbowsmoke.hu, so I won't repeat those here. It was an even bigger success in my home country, Hungary, where I appeared on the country's biggest news sites, a national radio and hopefully, also a national TV soon. It is just unbelievable

.
Algorithm advancements
As I mentioned, the algorithm was very slow at the time I published the first images. I knew it wasn't ready, but I was too tired already, so I just ran it as is and waited many hours for it to finish. I have received some comments from my blog's readers about how to make it faster, they turned a few hours into a few minutes. This was a good inspiration, but I actually found a new way to make it even faster. Now I can render a full 16 megapixel image in seconds. This may even be worth a research, or maybe not, I'm still investigating the possibilities. I know I promised technical details, but those will have to wait a bit more, I hope you understand.
Apart from making the algorithm faster, I also added many, many new features to it. I knew from the very start that there are many further ways where I wanted to go with this, I have only implemented a half or a third of them yet, but there are already hundreds of new images waiting to be published. So hang on, there are more ideas where the previous ones came from. My mind is just filled with this algorithm right now, I have such an insight like I can communicate with it, it's like I'm seeing and living in this different world in those pictures. I have always said, for many years before this project, that programming can be an art form, and I'm not talking about the visual or other results of an algorithm, but the algorithm itself. Again, let me direct you towards rainbowsmoke.hu, where you will be able to follow the latest advancements and some technical background. The technology menu item is already there, currently just waiting to be filled with content.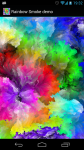 Making the algorithm a lot faster also let me port it to any platform, and this is year 2014, so what could it be? Of course, mobile phones. Currently, the demo version for Android can be downloaded from here, it is free and ad-free. I have an Android phone, so it was the obvious choice. Except I didn't know anything about Android development, so I learned the basics in about two very long days, then it took a few more to polish the details. Anyway, other platforms are under way too, and of course I have dozens of new ideas to implement.

Art project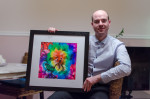 Another very interesting aspect of these images is as a physical artform. I was approached by the best Hungarian fine art printing company, Pigmenta. They saw great potential in this project, they even gave me a sample print free of charge to prove their point. Their quality is amazing, their technology is state of the art, they can produce the kind of images which you can hang not only on your wall at home, but in a real art exhibition too. Previously I tried publishing through Society6, but I abandoned them because it didn't work out.

So, the first step towards this goal was starting a gallery website dedicated to this project. I won't spam you with the link for the fourth time, find it above

. I made up the name rainbow smoke for the first beautiful, rainbow colored, smoke or floral like design while I was talking about it to journalists, and they even used this title in their articles, so I thought it's good enough (actually, it was the second design, the very first one was the explosion, but that's not a good name for anything). I haven't coded in PHP for several years, but I didn't want to use a CMS because I had too specific requirements. So I built it from the ground up in PHP, but it wasn't a very good experience after .NET, I had some WTF moments but everything worked out in the end.

So currently I am working hard on producing even more algorithms, hand picking and fine tuning every image, and my ultimate goal is to provide fine art prints for your wall or an exhibition near you.